What's New in Pubeasy
View a short video walkthrough of the new Pubeasy here.
What's Changed
UI: Cleaner user interface that gets you to information faster
Search: Now at the top of every page, and includes search suggestions as you type
Title Availability: Color-coded so understandable at a glance
Personal Pricing: Now shown on the title search results list (where available from the supplier).
Help: More extensive support section and quick tutorials linked on every page
Login: Changed to a standard username and password (use your old PIN as your username).
Transact: Discontinued. Please contact Support if you used this feature.
Webservices: Link your system for automated processing. Please contact Support for more information.
Login Username Format: Your new Username (PIN ) is now your PIN, a hyphen, and your 4 Digit User ID with no spaces, PIN-User ID. For example, if your old PIN was P1234567 and your 4 Digit User ID was 0001, then your new Username is P1234567-0001.
Click on "Show my new Username from old Pubeasy PIN and User ID to generate your new Pubeasy Username.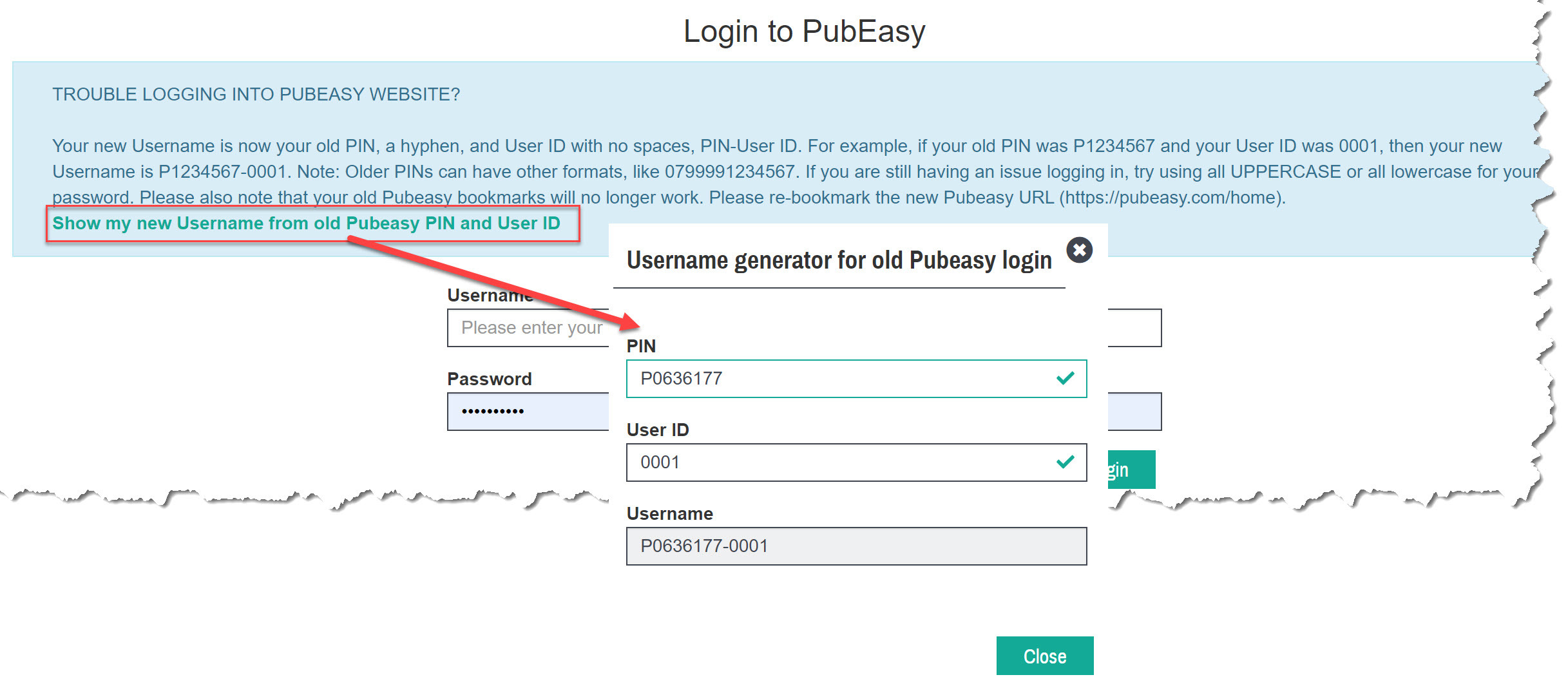 If you are still having an issue logging in, try using all UPPERCASE or all lowercase for your password. If you don't know your password or are still having trouble, please click on Forgot your password? and be sure to enter your new Pubeasy username from the Username Generator.
New Features Added
Jacket images: For when you know the cover of that edition you want to order is blue...

Order lists: Use them as draft orders that you build over time or as permanent lists of holiday backlist titles, inexpensive titles to help make minimums, staff picks, etc.
Import CSV files: If you've already built an order in Edelweiss or your POS, use this feature to easily import it into Pubeasy since EDI ordering is faster, more accurate, and may give a better discount.
Coming Soon!
Imprint lists. Easily look up which Pubeasy supplier distributes a particular imprint or small press.
Publisher Catalogs. Let us and/or your publisher reps know what would be most helpful to you here: collections by order cutoff date, top-selling indie backlist, curated category lists, etc.